Current: A News Project is a data visualization tool launched last month to give editors and writers a new way to determine which stories have the best chance of being read online. Seeing the potential for communicators to leverage this program to better understand the news cycle, I interviewed Current's creator and my classmate from ITP, Zoe Fraade-Blanar about her project:
Q: What does the Current stream represent in non-technical terms?
A: This particular tool is pulling the top news stories from Google, which does us the favor of condensing them for us into general topics.  And to find out how the human population is responding it's using the Google Hot Topics tool, surveying the fastest rising searches in the US every hour.  But there's no reason any Trending Topics data wouldn't work here – Twitter would be a favorite.
Q: Explain a bit about how using Current helps a journalist determine "news that matters."
A: Ah, not even the smartest computer algorithm can replace an editor when it comes to placing value on a story.  What it can do is help one balance their soft and hard coverage.  In a world where a struggling editor might choose to raise their traffic by covering every celebrity scandal, Current lets them identify, say, the two that are most likely to give them the same amount of traffic.  Of course, Current is morally neutral – if you wanted to use a tool like this to generate the most sensational newspaper ever, that's certainly a completely legitimate use as well!
Q: Although you built Current with news editors in mind, what features might be of interest to PR?
A: One of the interesting observations here is that there are two ways for a news item to make it into the interest stream: they can cause a big enough stir that they spawn their own meme, but they can also piggyback off of an existing meme.  For someone with PR in mind, hitching your topic behind a growing meme is a completely legitimate way to get noticed for companies without the resources to spawn their own.  When PR is pinpointed to what people actually want to know, it's no longer advertising.  That PR turns into real honest-to-goodness relevant information.  Which is a beautiful thing.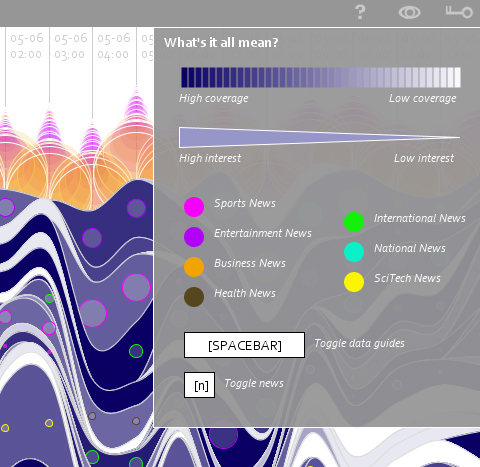 Q: How does Current address a gap in the way we currently perceive news?

A: If Current, and projects like it, are successful, they should actually change the way the News sees news.  Right now it seems like there are two extremes – News media that wants to protect the perfect news coverage on some kind of idealistic pedestal, and News media that wants to use News to drive advertising dollars no matter what the content.  There's a bit of a grey area in the middle as the pedestal people are forced by the economy to prune coverage areas they don't excel in, and at the same time there exists an inevitable backlash against the more mercenary model, but the idea here is to give them another alternative.  The survival of News as an industry lies somewhere in the middle.
Q: You spent some time working with the New York Times analytic group before you built this project. What changes are you seeing in the way we value news at a technical level?
A: Of course, the real value for a story is how it changes what people think about a topic, but that's a tough one to quantify (and of course, impossible to monetize).  A more Machiavellian metric would be the amount of conversions it results in for advertisers, one less so would be general clickthroughs, or clickthroughs from the story to another in-site story.
But I think all these miss the point, which is that some of the most important news is the most boring.  The most successful metric will take into account that some of the most necessary stories will be complete flops when measured by the numbers.  Those stories are what keeps the reader's trust, even if they don't keep the reader's interest.  Like the blank whitespace in a drawing, replace too much of it and the whole becomes unreadable.  So perhaps it might be better to judge the traffic of a section as a whole, than on a story-by-story basis.
Thanks so much to Zoe for her time. You can download Current and try it out for yourself.
If you have any ideas on how Current could be a useful communications tool, please leave a comment.